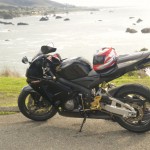 One of our favorite new websites is Gizmag, so we were pleased when they turned up in our daily search for gaffers tape news.
This particular review was about a blue tooth headset designed to be installed inside motorcycle headsets.
Gizmag liked the Sena SM10, but found they needed to pull out the gaffers tape in order to manage all the cables this product used.
Tapenews.com is your source for "all the news that's fit to stick". Send us your interesting tape news and we'll share it with the world! Thetapeworks.com