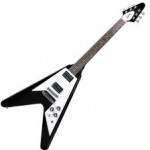 Gibson's custom guitar building shop is taking their Signature replica series guitar building to what might be considered a ridiculous level.
The replica of Metallica's Kirk Hammet's 1979 Flying V even includes three strips of black gaffers tape on the back, apparently applied because the finish had started to crack.
You can read more aobut Gibson's custom replica guitar building building program and see pictures of Hammetts axe by clicking here.
Tapenews.com is your source for "all the news that's fit to stick". Send us your interesting tape news and we'll share it with the world! Thetapeworks.com